Window Tint For Your Vehicles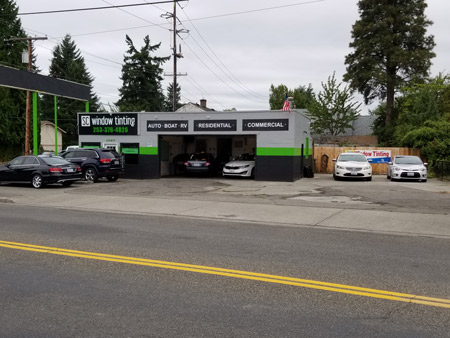 Are you looking to enhance the look and feel of your car or truck? Need extra protection for your interior or yourself while driving? Looking to save energy or add comfort to your home or business? Our trained team of technicians at SC Window Tinting takes the time to make sure your windows are tinted correctly. Since 2001, SC Window Tinting has been providing Puyallup residents with quality window tint for vehicles.
Many local auto dealerships use us, so we're always up-to-date on the latest cars and the styles of tinting. We offer top-quality glass tinting for all your residential, commercial, and auto needs. Our goal is to provide every one of our customers with first-class customer service, top-of-the-line products, and rock bottom rates. Call SC Window Tinting today for all your window tinting needs.
Window Tinting Services We Offer
When it comes to window tint, our team of installation experts supplies you with the highest quality window tint in the industry. We only use Xpel tint films for auto, RV, and boat window tinting jobs. Need your home or business tinted, too? We can help you with that. With excellent varieties of colors and plenty of benefits to you and your car, home, or business, Xpel tint films are the best choice for your window tinting needs. Xpel films guarantee you the same flawless appearance and clarity for the entire lifetime of the film. All of their films are covered by a transferable lifetime warranty that promises no peeling, no cracking, no bubbling, and no change of color.
What Benefits Come With Window Tinting?
Tinted windows for vehicles come with several key benefits that make life a bit easier. Some of the benefits included with your new Xpel tinted window film:
Protection for Skin and Eyes – Window tint helps restrict harmful UV rays that can come through windows. These rays can be detrimental to both skin and eyes, especially while driving.
Protection for the Interior – UV rays can damage skin and eyes, but they can also damage the interior of your vehicles. The rays can make car interiors fade and change color.
Added Security/Privacy – With tinted windows, the shade of color can help add a level of security to any vehicle.
Aesthetically Pleasing – Window tinting can look aesthetically pleasing when done correctly for a car or truck!
RV Window Tinting in Puyallup
Along with cars, trucks, and minivans, SC Window Tinting also installs beneficial tinted window films for personal RVs and trailers. Don't let heat and glare ruin your road trip or relaxation! Protect yourself on the road at all times and make sure that you and your passengers ride in comfort. Our Xpel window films will reduce the sun's glare, helping improve your visibility and reducing strain on your eyes while driving. These films have been designed with SPF 1,000 protection that blocks up to 99% of harmful UV rays. Protecting you and your passengers is essential for long trips during the summer months. Our Xpel films are also metal-free, meaning there is no interference for radio, cell phone, or Bluetooth signals. Ask one of our experts how we can fit your vehicle with interior protection window films.
Tinted Windows For Boats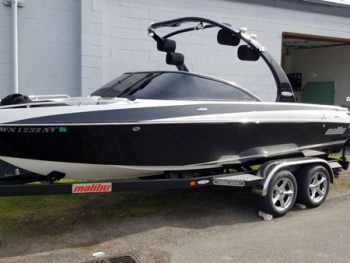 Don't worry; your boat can have tinted windows, too. Tinted boat windows can serve a great purpose. The film not only protects you from glare from water, reflective surfaces, other boats and reduces UV rays, but it adds an extra layer of protection for increased safety and can minimize window shatter if the glass breaks. The tinted glass can protect the rubber, wood, and audio equipment of your boat as well. Ask us how to protect your boat with a tinted window film today!
Auto Window Tinting Near Me
With a lifetime warranty that guarantees against delamination, peeling and fading, there's never been a smoother, more affordable way to get professionally applied commercial window tinting, residential window tinting, and auto window tinting in Puyallup. We also provide window tinting services for RVs and boats! Call SC Window Tinting at (253) 376-4826 or Contact Us and experience the difference for yourself!